Recent Posts
91
« Last post by Flare on February 28, 2016, 03:06:47 PM »
Pewpew! 3.2 mega update!

92
« Last post by Ayasu on February 26, 2016, 10:31:23 AM »
Hey guys!
It's meeting time! Been a while, huh? Next weekend, Saturday March 5th at 8PM EST, we're having an FC meeting! We don't expect this to last longer than an hour or so, so if you're online please make sure you're in the FC house, downstairs in the meeting room *AND* on Discord so that we don't have to type out /everything./ No mic, no problem -- as long as you can hear us, it's all good.

During the meeting, we'll talk about some things concerning company crafting project, FC events, raid groups, FC Bank usage and we plan to set some time aside for questions -- you'll be able to ask questions in chat, you don't have to ask them on voice if you don't want to -- but again, we do require that you be able to hear us speak. We'll try to keep the shenannigans to a minimum. (KIRK.)
To re-iterate:
What: FC Meeting
Where: FC House, downstairs meeting room
When: Saturday - March 5 @ 8PM EST (7PM CST/ 5PM PST / March 6 @ 1:00 AM GMT - you guys can google it if you're in another time zone. >.>)
93
« Last post by Ayasu on February 19, 2016, 07:48:03 AM »
Patch 3.2 brings a host of additions and refinements to the ever-changing realm of Eorzea. Thrill-seekers can brave the steely confines of Alexander: Midas, contest the awesome might of Sephirot, the Fiend, or dive into strange new dungeons. Those still learning the ropes of the adventuring life can practice in the Hall of the Novice and seek guidance via the mentor system. If you simply need to refine your form, you can cut your teeth at Stone, Sky, Sea. There's even the orchestrion for the realm's connoisseurs of music. Indeed, there is something for everyone here in Eorzea!
View the
patch notes
.
94
« Last post by Ayasu on February 19, 2016, 07:47:46 AM »
Hey guys!
I've been slackin' on frontpage posts, so instead of putting like 3000 new posts on the FP, I'm gonna just make one big one. Oldest news on top, newest news on bottom(and 1 separate because reasons)
Enjoy!
---
Main Scenario Preview
Patch 3.2 ? The Gears of Change is scheduled to release on February 23, 2016! Prepare for release day with this sneak peek at the main scenario.
Read on for
details
.
---
Dungeon Preview
Patch 3.2 is fast approaching, and today we offer you a glimpse into the Antitower, as well as the hard mode of the Lost City of Amdapor!
Read on for
details
.
---
Sephirot Battle Preview
Today's patch 3.2 preview will give players a peek at the battle with Sephirot, one of the three towering pillars of the Warring Triad.
Read on for
details
.
---
Beast Tribe Quest Preview
In today's patch 3.2 preview, you'll get a peek at a new quest series focused on the Vath and their journey to freedom from the Overmind.
Read on for
details
.
---
Alexander: Midas Preview
Read on for
details
.
---
Patch 3.2 - Gear of Change Trailer Is Now Live!
Change is coming to Eorzea. But how will her people cope with what it brings? Ser Aymeric boldly paves the way for his people's salvation. Adventurers clash in brutal combat at the Wolves' Den. Nashu, faithful companion of Hildibrand, continues her search for the gentleman inspector. Fledgling adventurers sharpen their skills in the Hall of the Novice.
The winds of change blow fiercely, and today we offer you a glimpse of what's to come in the Patch 3.2 - The Gears of Change trailer!
* Please be advised that the Feast is scheduled to be implemented in patch 3.21.
---
The Feast Preview
In today's patch preview, we offer you a look at the new PvP encounter, The Feast.
* The Feast is scheduled to be implemented in patch 3.21, two weeks after patch 3.2.
Read on for
details
.
95
« Last post by Ayasu on January 29, 2016, 07:44:18 AM »
Ardor and affection─words of that noble Ishgardian house, Valentione, who sows the seeds of amore throughout the realm. Their arrival can only mean the season of love is upon us once again, and the return of Valentione's Day! Word has it that Lady Lisette has come with an entourage of fortune-tellers, who will lay bare the fates of Eorzea's lovers. Adventurers who would divine the truth of their love are encouraged to seek her out!
Read on for
details
.
96
Slow evening at work? Yes.

Did I enjoy reading through the entire comic in-between calls? Yes. I was skeptical, but I did!
97
« Last post by Ayasu on January 11, 2016, 07:17:41 PM »
Hey all!
Do you like webcomics? I sure do. Did you know I used to make one? No? Now you do.

It's called The Unoriginal Comic.
Even better, did you know that I've started updating it again? What's that? You want a link? How about I show you the first new comic in like 10 years? :3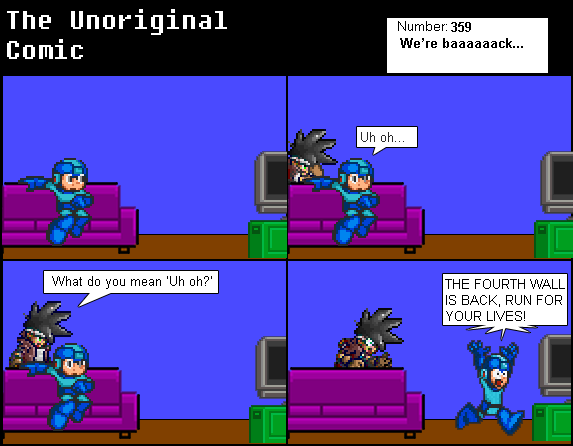 You're prolly wondering why this warrants a front page post on the Dimensional Death forums, right? That's because TUC was, way back when, a collaborative project between myself and Tunod. After a while, Tunod left the comic and it was just me. Then life got in the way, and I stopped, as well. But, here we are 10 years later, and Celedh's going to be helping me out! As you can see, then, the comic actually pre-dates DD by quite a bit. In fact, DD was founded shortly after I stopped updating the comic.
What's all this rambly whatnot all about? Mostly, I'm just trying to get the word out there that The Unoriginal Comic is back, and will be updating Mondays and Fridays right now. Celedh's gonna be helping me out, and I actually know there were a few FC members who used to read back in the day. All I'm asking for is for you guys to support the comic by heading over and giving it a read.

If you want, sign up for the forums! Comment on stuff there, too!
I'm really excited to be reviving this project -- it's something I've wanted to do for a long time. I do hope all of you support us by giving it a read through. ^^
98
« Last post by Ayasu on January 11, 2016, 07:10:44 PM »
Posted
99
« Last post by Senji on January 11, 2016, 06:40:00 PM »
\o/
100
« Last post by Ayasu on January 11, 2016, 01:04:37 PM »
Nothing tonite, but will be posting the month's events tonite when I get home