91
« Last post by Ayasu on January 11, 2016, 07:17:41 PM »
Hey all!
Do you like webcomics? I sure do. Did you know I used to make one? No? Now you do.

It's called The Unoriginal Comic.
Even better, did you know that I've started updating it again? What's that? You want a link? How about I show you the first new comic in like 10 years? :3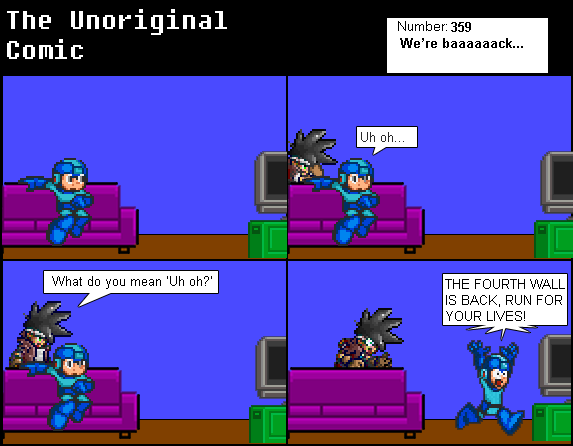 You're prolly wondering why this warrants a front page post on the Dimensional Death forums, right? That's because TUC was, way back when, a collaborative project between myself and Tunod. After a while, Tunod left the comic and it was just me. Then life got in the way, and I stopped, as well. But, here we are 10 years later, and Celedh's going to be helping me out! As you can see, then, the comic actually pre-dates DD by quite a bit. In fact, DD was founded shortly after I stopped updating the comic.
What's all this rambly whatnot all about? Mostly, I'm just trying to get the word out there that The Unoriginal Comic is back, and will be updating Mondays and Fridays right now. Celedh's gonna be helping me out, and I actually know there were a few FC members who used to read back in the day. All I'm asking for is for you guys to support the comic by heading over and giving it a read.

If you want, sign up for the forums! Comment on stuff there, too!
I'm really excited to be reviving this project -- it's something I've wanted to do for a long time. I do hope all of you support us by giving it a read through. ^^