Hunting Logs Guide Tips
If you notice an error on the Hunting Logs Guide, please post about it under the appropriate thread in the Guides subforum:
[Report]Hunting Log Errors
Final Fantasy XIV News
Frontpage Announcements
Members removed due to inactivity [May 28]
Posted by:

Ayasu

in Dimensional Death(FFXIV) Announcements on May 27, 2015, 08:17:40 PM
On May 28th 2015, the following members were removed from the FC. Should any of these members wish to return to the FC, they are free to do so!
From here forward, however, we will be keeping with a more strict inactivity policy. For more information on that, please check the
Rules Page
under
Idle status
Members removed from the FC due to inactivity
Zharah Vandor(476 days)
Press Start(480 days)
Umfufu Murphy(461 days)
Ellisif Audunn(368 days)
Astrid Lafluer(360 days)
Zabet Merula (348 days)
Gally Dreamcatcher (311 days)
Narysa Hanabi (295 days)
Jinx Fireboot (267 days)
Rune Adalwulf (250 days)
Skomoto Dragoon (232 days)
Isagami Rikka (196 days)
Mister Hat (195 days)
Lavian Lilim (165 days)
Isolde Cordwyk (165 days)
Minty Banana (145 days)
U'shakkri Shikhu (144 days)
Geoffrey Hawthorne (143 days)
Phedre Li (143 days)
Sam Whiskey (129 days)
Koh'a Lanbata (126 days)
Raeri Istylo (124 days)
Teemo Swiftscout (103 days)
K'oshka Chatul (101 days)
Rein Zwie (98 days)
Emmeno Pecuar (92 days)
Members removed from Forums
Press Start
Astrid La Fluer
Gally
injunuity
Ellisif
Skomoto
Isolde Cordwyk
---
"The Mythril Eye!"
Posted by:

Ayasu

in Dimensional Death(FFXIV) Announcements on April 16, 2015, 05:00:59 PM
Hey guys!
So, a number of you who have been slammed with questions lately from me already know that this is in the works, but since I lost my job recently, I'm looking to finally start up an FFXIV news fansite. We've decided on the name "The Mythril Eye," after the news publication from Ul'dah.
Things are just now starting to wind up, but I am going to need help -- like, really will /need/ help, since a news site cannot be run alone.
A few things we'll need, right out of the gate, though... is funds. I've been dreading asking for help on this, so you'll notice a link in the top right of the site, here, for a Patreon that I've set up for this. I really am pouring my heart into this, and I would LOVE to make this successful. However, as I've said I'll need help. Initially, I will be running this mostly by myself, with the help of a few other members of the FC chipping in some weekly/biweekly columns for various topics, including but not limited to:
Class Columns
Dungeon Guides
New Player tips
Lore columns
And more!
Any help would be appreciated for this - be it in the form of volunteering to help, or assisting in the costs to keep a site like this running.

If you don't feel you can contribute content, please look at possibly contributing towards the Patreon! If you can't do either -- spread the word! Link the site once it's up and running, and help bring the hype!

The site will be read for launch soon, and I plan on posting that link here. In the meantime, check out our Patreon page.


Support us on Patreon!
---
[RIP] Araceli
Posted by:

Ayasu

in General News Announcements on March 18, 2015, 11:33:19 PM
A member of the Dimensional Death community that's been around since our FFXI has passed away recently. Not a ton of you will know her, but most of those who did knew her as Araceli. Ara passed on Tuesday, March 17th 2015. She was 32 years old.

Araceli joined Dimensional Death alongside Demarcus in late 2008, and both followed Dimensional Death into World of Warcraft during Wrath of the Lich King as Nyori.

For those who knew her, she will be greatly missed. She was... I can't really even words right now. She was Ara.

RIP Araceli. You were loud, opinionated, hardheaded, stubborn and amazing. You'll be missed. The internet is a little quieter tonite.
---
[3/14] Letter from the Producer LIVE - Special Edition Digest
Posted by:

Ayasu

in Dimensional Death(FFXIV) Announcements on March 14, 2015, 10:59:10 AM
A Special Edition Live Letter aired last night, that went into some details about the collector's editions, release dates, and preordering.
I've gone ahead and compiled it into one big post here, for ease of reading!
Click here to read on!
---
Daylight Savings Time!
Posted by:

Ayasu

in Dimensional Death(FFXIV) Announcements on March 07, 2015, 07:50:32 PM
Just a reminder that DST begins tonite!

This means, though, for states in the US that change their clocks for DST lockouts and resets change!

Daylight savings time starts Saturday night/Sunday morning at 2am!

The daily reset is now going to be at 8am PDT/11am EDT.

The weekly reset on Tuesday morning will now be at 1am PDT/4am EDT.

Again, this doesn't apply to areas that don't shift with DST -- try to keep this shift with timezones in mind when scheduling events!
---
Heavensward Release Date
Posted by:

Ayasu

in Dimensional Death(FFXIV) Announcements on March 07, 2015, 10:08:10 AM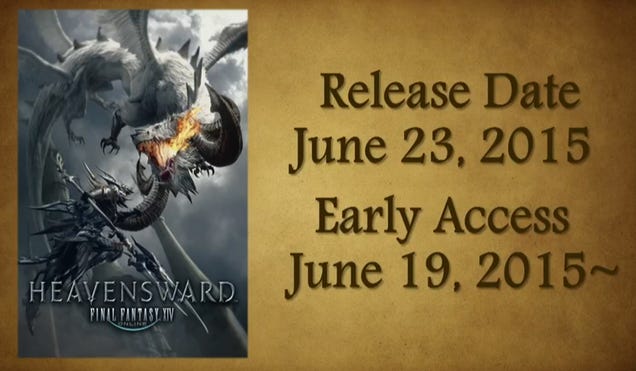 ---
1/15 - 2.5 Prelim Patch Notes!
Posted by:

Ayasu

in Dimensional Death(FFXIV) Announcements on January 16, 2015, 01:24:03 PM
Japanese Fan Festival Cosplay Contest Entries
DO THE HUSTLE
Patch 2.5 Preliminary Patch Notes!
Today, SE posted the Prelim 2.5 patch notes. I'll post a few of the more interesting things here, but you can click the image below for the full spread!
New side quests have been added.
Housing Updates
Aetherial wheels have been added, which can convert stored energy into company actions.
Free companies can now charge aetherial wheels on estate grounds. These wheels acumulate aether over time, which can be used to acquire company actions without the use of company credits.
In order to charge aetherial wheels, free companies must first obtain an aetherial wheel stand, which can be purchased from housing merchants in any residential district.
The aetherial wheels themselves can be crafted using alchemy.
Retainers can now be placed on estate grounds outside the hall.
Dungeons and Raids
The PvP encounter Borderland Ruins (Slaughter) has been added to Frontline.
The drop rates for the following Extreme primal battle rewards have been increased:
 Aithon Whistle / Xanthos Whistle / Gullfaxi Whistle / Enbarr Whistle / Markab Whistle / Boreas Whistle
To improve visibility for colorblind players, the targeting indicator for Shiva's Icicle Impact attack has been adjusted.
In the event that all party members are incapacitated during the following trials, players will now receive the power of the echo:
The Akh Afah Amphitheatre (Hard)
Each stack of the echo will raise attributes by 10% up to a maximum of 50%.
The Akh Afah Amphitheatre (Extreme)
Each stack of the echo will raise attributes by 5% up to a maximum of 25%.
The World of Darkness, the next raid of the Crystal Tower arc, has been added.
Party Role Requirements
Parties matched automatically via the Duty Finder will comprise 1 tank, 2 healers, and 5 DPS. Parties formed prior to registration must also meet these role requirements.
Players can now obtain an Allagan catalyst from the Labyrinth of the Ancients and Syrcus Tower.
*Labyrinth of the Ancients
*The treasure coffer that appears upon defeating Amon.
In order to maintain the difficulty of certain duties, item level sync has been applied to the following dungeons:
The Wanderer's Palace / Amdapoor Keep / Pharos Sirius / Copperbell Mines (Hard) / Haukke Manor (Hard) / Brayflox's Longstop (Hard) / Halatali (Hard) / The Lost City of Amdapor / Hullbreaker Isle / Tam-Tara Deepcroft (Hard) / Stone Vigil (Hard)
*Any gear above item level 110 will be subject to item level sync when undertaking the above duties.
Relic Quest Changes
The rate at which soulglazed relic weapons achieve soul attunement has been increased.
TheThe drop rate for Alexandrite when completing a FATE with a gold rating while equipped with an animus, novus, or nexus weapon has been increased.
Crafting/Items/Desynth/Gathering
The level cap for desynthesis has been increased.
Skill levels will no longer decrease if your combined skill level is not at the maximum.
New items have been added to gathering points
Players will now be invulnerable to area attacks while gathering if they have not gained aggro from enemies.
Misc
The "Most Gentlemanly" pose has been added.
Attempting to purchase items consumed upon use that you already possess, such as chocobo barding or master recipe books, now will cause an message prompt to display.
Signs will now be displayed on the enmity list.

The /random text command has been added, allowing players to randomly generate numbers in the log window.
* Use of the /random command can be seen by all players in the immediate area.
---
Originally posted by Square-Enix (Official Forums)


---


I'm wondering if this was a typo or not but under PVP rewards it says:
"All players will receive PvP EXP and Wolf Marks, as well as Allagan tomestones of soldiery and Allagan tomestones of philosophy based on their performance."
I'm assuming they meant poetics but if not...return of the original tomestone?



This was actually a mistake and it should say Allagan tomestones of poetics. Sorry for the issues that appear in the preliminary notes and rest assured they'll be corrected when we release the full version!
---
1/15 New Hairstyles, 2.5 Sneak Peak Part 2, Paypal for Crysta!
Posted by:

Ayasu

in Dimensional Death(FFXIV) Announcements on January 16, 2015, 12:55:04 AM
Japanese Fan Festival Fan Art Contest Entries
I would love to hear some feedback sometime, guys. =P Or discussion or something -- feel free!!
Patch 2.5 Dungeon Sneak Peek, Part 2!
Today's sneak teases some of the Main Scenario and Side quests we're gonna see next week!
JP Dev Blog: New Hairstyles!
Using Paypal for Crysta
Originally posted by Square-Enix (Official Forums)


---

Paypal please! (or Riot )

Greetings, everyone,

You will be pleased to hear that PayPal is now available to use as a method of purchasing Crysta!

We understand that many of you have been waiting patiently to utilize this payment option and we wish to thank you for your patience while we worked to get it implemented.
Frontlines in 2.5
Originally posted by Square-Enix (Official Forums)


---


As discussed in the Letter from the Producer LIVE, we will be releasing a new mode for Frontline that introduces new rules and features in Patch 2.5, as well as a daily roulette.

With Patch 2.5 right around the corner (Less than a week! Hype!), we don?t want to give too much away, just know that PvP is still very much on the dev. team?s radar.
---
1/14 - 2.5 Preview page, 2.5 Sneak Peak, Dev Posts
Posted by:

Ayasu

in Dimensional Death(FFXIV) Announcements on January 15, 2015, 01:25:42 AM
Still tinkering with the layout of this. If you guys have any feedback on what you'd like to see in these kinds of threads, please let me know in the replies!

- Ayasu
Before the Fall patch preview page is live!
Square's put together a preview page for Before the Fall, as they've done with previous patches.
Patch 2.5 Dungeon Sneak Peak!
There was also a sneak peak into some of the dungeons coming in the new patch, as well!
Dev Posts
Originally posted by Square-Enix (Official Forums)


---

So, I assume the staff mentioned in the opening is the one the scions have, which is shattered, and formally belonged to Louisoix. Do we know more about why it is important?
Edit: also, I read on reddit that the Japanese trailer opens with Iceheart talking, not Urianger. Is that true, and if so does anyone know what she says?

We?ve noticed people here and there wondering about why the EN and JP 2.5 trailers begin with different characters speaking, as well as what the woman in the JP trailer is saying. First of all, allow me to provide you with the corresponding EN:

Lucia: When a great wyrm roars, his brethren cannot choose but answer. We prepare for battle.

It?s a perfectly serviceable line, and I would?ve been happy to see it used (I wrote it!). However, there?s a rather simple reason why it wasn?t: the EN line is roughly 5.5 seconds long, whereas the JP one is just over 10.

You see, the vast majority of the voiced lines in FFXIV are not timesynced, which is to say that the lengths of a given line across languages are not standardized. This allows each team to write and record lines at natural lengths for their language, instead of, say, dragging out an interjection (DIIIE, DAAAMN YOOOOOOUUU!), or cramming an eloquent thought into a split second (Iamtheverymodelofamodernmajorgeneral). This works because the next line doesn?t automatically play─you have to press a button to continue. Of course, for scenes in which lines advance automatically (such as a certain woman?s pleas to the heavens, of which I?m also rather proud), line lengths do have to be standardized, and our job gets a little more complicated.

You can probably see where this is going.

When the team creates trailers, they choose lines based on their JP length and content. However, they can?t restrict themselves to timesynced lines, since that would severely limit their options. Therefore, any line is fair game, and if the corresponding EN/FR/DE line isn?t suitable, we have to compensate. Cutting, splicing, swapping─we do whatever is necessary. We work closely with the sound team to make sure everything fits, and any significant changes─such as swapping the Lucia line with the Urianger line─are approved by those in charge (?Does it sound cool? Okay, as long as it sounds cool!?).

However, to be perfectly clear: these are exceptions. Most EN lines in our trailers correspond to the JP lines, and we will only swap lines as a last resort.

Fortunately, the team understands our situation, and they do their best to accommodate us. They use tricks to allow for variable line lengths in trailers, like showing a person speaking, then cutting away as their line continues. The Alphinaud line, for example, is about 10.5 seconds in JP, and about 6.3 in EN, but that doesn?t matter because you no longer see him on screen and are now distracted by foreboding music and a cackling villain with wicked sideburns.

And there you have it! Hopefully, by clearing up this mystery, y?all can focus on the other dozen or so currently being discussed.



---
1/13 News Recaps!
Posted by:

Ayasu

in Dimensional Death(FFXIV) Announcements on January 14, 2015, 01:25:18 AM
Famitsu Article Translation
I think, in order to get a little more going on here on the front page, I'm gonna scour the interwebs and try to find FF14 news to update here -- I know not everyone frequents reddit, or other sites... but I do!

So, every so often, I'm gonna go through, grab things like Dev posts, news, and some other fun stuff to post here on the frontpage.

Hope you guys enjoy.
All World Maintenance 1/19-20
At the following time, in order to accompany patch 2.5, we will be performing maintenance on all Worlds. During this period, FINAL FANTASY XIV: A Realm Reborn will be unavailable.

We apologize for any inconvenience this may cause and thank you for your understanding.

*The World Transfer Service will be suspended 15 minutes before maintenance begins, and will be unavailable until maintenance has ended.

*Please be advised that you will be unable to make reservations for Ceremonies of Eternal Bonding from the time maintenance ends until Jan. 23, 2015 1:00 a.m. (PST) / 9:00 (GMT).

[Date & Time]
Jan. 19, 2015 3:00 p.m. to Jan. 20, 2015 3:00 a.m. (PST)

* The completion time may be subject to change.

[Affected Service]
- FINAL FANTASY XIV: A Realm Reborn
Dev Forum Posts
Rare dye on cash shop for 2.5 please!?!?
Grekumah - We?re looking into making the metallic gold, metallic silver, jet black and pure white dyes available through other means, but we don?t have any concrete details to share at this time.
New Devblog!
The Trailer Before the Fall
Bayohne posted a new devblog today, with some photos of the new Keeper of the Lake dungeon!
Support The Mythril Eye!
Rules and Applications
Guides
Users: 1
Guests: 29
---